Safety and rules of conduct at the Bikepark Leogang
Fair play is important! We therefore ask you to closely adhere to the rules of conduct and safety regulations whilst enjoying the challenges of the bike park. Read/understand rules of conduct in advance! The goal is to prevent and minimise risks for all and to foster a welcoming atmosphere for bikers, hikers and pedestrians.
Safety equipment
To assist in the safe use of our trails and lines in the Bikepark Leogang and the surrounding region, we recommend the following protection.
Full Face Helmet
Safety jacket
Gloves
Knee protector
Neckbrace (optional)
Important!
Emergency number for bikers: +43 676 88219224
Please save this to your phone and keep it with you at all times.
Note the numbers on the signs of the sections you are riding as this will give an accurate location if an accident occurs.
Rules of conduct
1. As a biker, I am responsible for the environment. Rubbish of any kind will be disposed of properly in the proper bins.
2. As a biker enjoying my sport, I will only use the marked trails and streets. I will mind signs regarding rules, restrictions and prohibitions and I will under no circumstances ride over meadows and fields. I acknowledge that I may encounter oncoming traffic on the Asitz mountain road at any time and I must control my speed accordingly.
3. As a biker, I must take into consideration the needs and safety of hikers and pedestrians, who always have the right of way.
4. As a biker, I will not scare wildlife and I will avoid deer crossings and beaten paths.
5. As a biker, I agree to follow the instructions of cable car personnel and the Bikepark employees and I will follow the instructions pertaining to proper bike transport.
6. Children under 10 are forbidden from using the bike trails (with the exception of the Riders' Playground).
7. As a biker, enjoying my sport is at my own risk. I am aware that this sport is unusually risky and I therefore have personal accident insurance and personal liability insurance for potential damages inflicted upon third parties.
8. As a biker, I am obliged to wear proper protective clothing. I must wear a helmet.
9. I will report accidents and property damage to cable car personnel.
10. As a biker, I acknowledge that the Bikepark Leogang and the Leoganger Bergbahnen cable cars cannot be held liable for property damages of any kind.
11. The lift ticket can be revoked for breaking the rules at any time!
12. The commercial, transport and operating guidelines of the Leoganger Bergbahnen.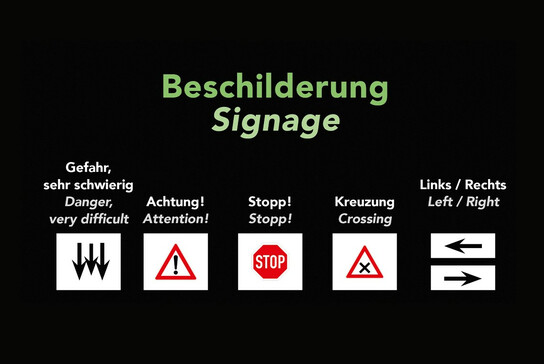 Safety instructions
1. When trails are closed, riding is absolutely forbidden (mind the signs at the start and end of the trail)!
2. Only bikes are allowed on Bikepark trails. Use of motorcycles is forbidden and will be reported to police without exception.
3. Hikers are not allowed on Bikepark trails (risk of serious injury/death) and should stay on the hiking trails.
4. Alcohol is forbidden on all routes and trails!
5. The downhill trail is reserved for experienced mountain bikers.
Keep the Epic Bikepark clean!
* Tear Offs are not allowed.
* TIP: Buy your ticket on a rainy day and you will receive a Roll Off film at the cash desk and a 10% reduction for 100% Roll Off Goggles at Sport Mitterer.
Roll Off instead of Tear Off
Why are you littering?
I am a jerk
I don't care about natural areas
Mommy still cleans up after me
All of the above